All About Muslimahdivers 
Muslimahdivers founded in 2011 by Hjh Mastura which is now Malaysia's longest muslim lady recreational scuba diving community and officially a Registered Society in 2019 by the name PERSATUAN PENYELAM SKUBA WANITA MUSLIM (MUSLIMAHDIVERS) by Registry Of Societies Malaysia. She herself is a Certified Rescue Diver and have been diving for more than 800 logged dives locally & internationally. Realizing the lack of syariah compliance scuba diving activities specially for muslim ladies she then gather few lady divers and form a small group with the support of her Instructor Trainer husband. Muslimahdivers is a non-commercial, non-profit, group for diving enthusiasts who are either already qualified as snorkel or SCUBA divers or for those who wish to take up the sport or who merely have an interest in the marine environment. Muslimahdivers principal activity is the running of diving trips for its members. Muslimahdivers does provide SCUBA training and certification under the auspices of Scubatex Resources Sdn Bhd which is a 5 Star Dive Center & 5 Star Instructor Development Center. Muslimahdivers members meets regularly to allow members to refresh and improve their diving skills and exchange information on the latest techniques and equipment.
We also meet socially to enjoy the company of other diving enthusiasts, view slides and videos of our underwater activities, and learn more about the underwater environment. Muslimahdivers also organised CSR underwater program occasionally. Not only recognized in Malaysia, muslimahdivers also got a respond from other country such as Brunei, Singapore and UAE.
MUSLIMAHDIVERS name and logo has been registered with Intellectual Property Corporation of Malaysia on 28/12/2016 is the EXCLUSIVE RIGHT of SCUBATEX RESOURCES SDN BHD which is the technical support team for MUSIMHDIVERS. We have the rights to take legal action for infringement under the Trade Mark Law against others who use our marks without consent. We can either take civil action or lodge complaints to Enforcement Division for appropriate actions under the Trade Description Act 1972.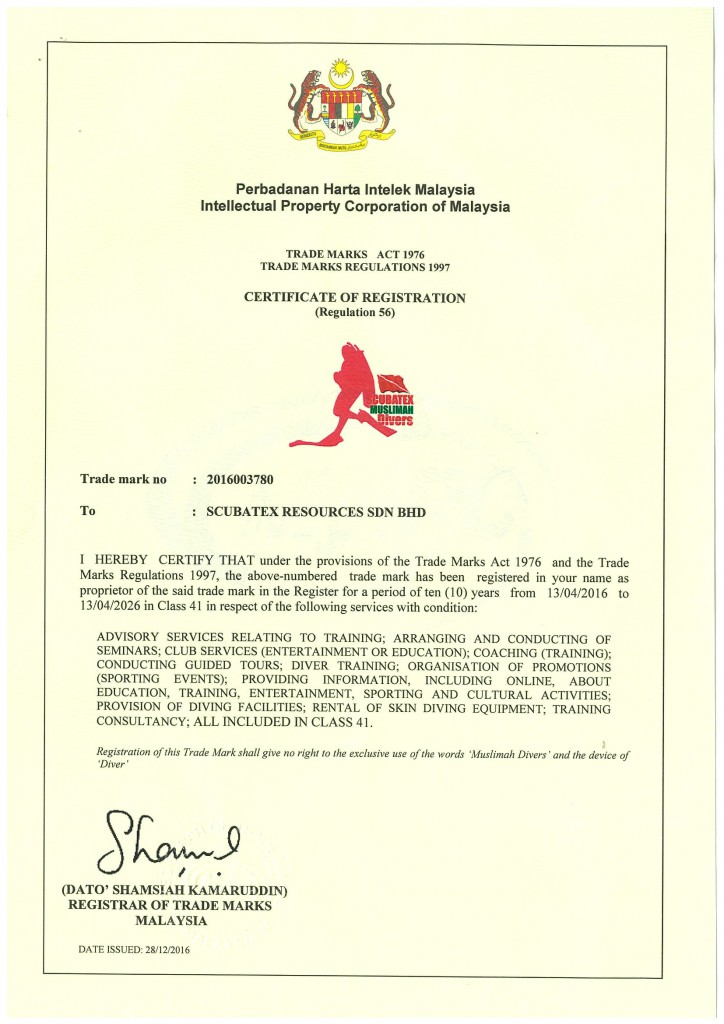 ADVISOR
HJ AHMAT NAJAH BIN HJ RAHMAT TDI/SDI INSTRUCOR TRAINER & EXAMINER
PATRON
YB DATUK WIRA HJH MAS ERMIEYATI HJ SAMSUDIN
FOUNDER/PRESIDENT
HJH MASTURA BT HJ ABD MANAP